Free Termite Inspection in Los Angeles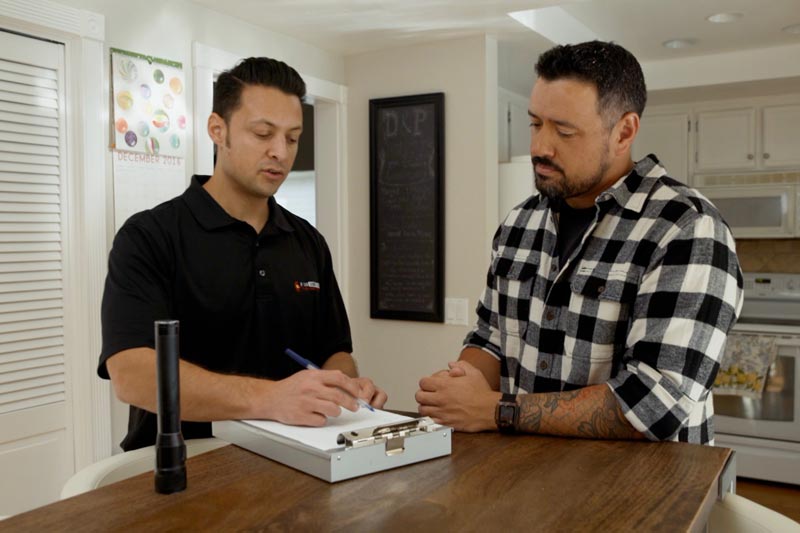 You May Not Have to Tent!
Termite treatment in Los Angeles, CA is safer and more eco-friendly than ever because of Hi-Tech Termite Control's commitment to providing effective environmentally preferred treatments. While tenting and fumigation is still the recommended termite treatment for severe infestations, there are plenty of alternatives in most situations.
Here are some of the highly effective treatments for termite control in Los Angeles:
Borate Mineral Salt
Another alternative to fumigation, borate mineral salt is deadly for termites and safe for people and pets to remain during treatment. We use the borate mineral salt termiticide Tim-bor® because it's an eco-friendly termite treatment that lasts for years without using toxic chemicals. The termiticide is formulated to penetrate wood to kill termites and protect it from other insects and fungi too.
Microwave Technology
Hi-Tech Termite Control offers microwave termite control. The XTerminator 4.0™ is one of the most powerful and effective noninvasive microwave treatment tools we've ever offered. One of the most exciting aspects of using microwaves is their ability to penetrate barriers. That means infested areas that used to be out of reach are now easily treated to eradicate the entire colony.
Many termite infestations can be treated successfully without tenting and fumigation. Our eco-friendly alternatives to fumigation are safer, faster, and more convenient than ever.
Termite Inspection in Los Angeles
If you want to find out if one of our eco-friendly termite treatments is right for your home, let one of our professional termite inspectors help you make an informed decision. When you choose Hi-Tech Termite Control for a termite inspection in Los Angeles, you get an inspection process that is the culmination of decades of experience in the detection and eradication of termites.
A typical inspection can take several hours, depending on the size of your home and the degree of infestation. Your seasoned inspector will need access to as many areas as possible inside, outside, and beneath your home. While our inspectors are known for their professionalism and knowledge, they aren't afraid to get their hands dirty tracking down termites.
Once your inspection is completed, the inspector will create a detailed report of their findings and recommend the best course of action. If your home is termite-free, your inspector will discuss your level of risk and what you can do to prevent future infestations. If your home is infested with termites, your inspector will recommend the safest and most effective treatment and give you a detailed, no-obligation quote.
If you want to learn more about termite control in Los Angeles, start with your free termite inspection. From LA to San Diego and across Orange County, we have the termite control alternatives our customers need from one of the best termite companies in Los Angeles.